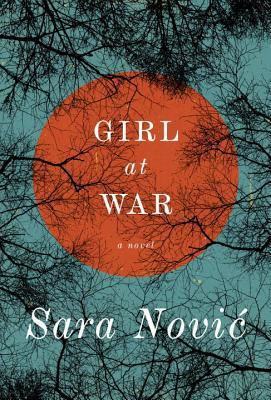 Girl at War, by Sara Nović
The Facts
Girl at War is Nović's debut novel (which leaves me in awe and amazement!), recently released on May 12, 2015. She also has written short stories, one of which you can, and should, read 

here

.
Sara Nović has spent time living in Croatia, as well as the United States.
She is the founding editor of the blog 

Redeafined

, which provides accurate information and awareness of deaf and hard-of-hearing issues; from education, to media representation, to real life experiences. 

This

 post about American Sign Language was super interesting, and discusses how ASL is indeed a "real" language.
Synopsis:
Ana is a young girl, living in Croatia in the 1990s, when civil war breaks out, and her life is forever changed. Fast forward to ten years later, where Ana is in college in the United States of America, and an event forces her to think about her past, and the country she left behind.
Non-Spoiler Review:
I'm going to lay it all out there… this book is fantastic! I read it ravenously, and was extremely sad when it was over. It's one of those books, I KNOW for certain I will read again, and probably in the not too far away future.
Now that I got that out of the way… this story centers around Ana, a young girl living in Croatia at the start of the civil wars across Yugoslavia in the 1990s. What floored me when reading, was the thought "how could I have not known about the extent of this…." as this is an event that occurred in my lifetime, and not really all that long ago.
The story is told in alternating chapters from when Ana is young in Croatia, as well as ten years later when she is a college student living in New York City. She has grown up and gotten out, but try as she may, has not forgotten her experiences and eventual escape from her war-torn home. The back and forth between the chapters had me on the edge of my seat the whole time, and I was equally invested in both the past and the present happenings.
Ana is such a great character, and the way the book is told, it almost reads as a memoir. I really FELT for Ana, and what she was going through. I loved how we as the reader, got to experience the horrifying events of her childhood, as well as her recovery and transition to living in America, all while her memories continued to relentlessly haunt her.
Just read this, all of you! You won't be sorry.
Rating:     [5/5 stars]
In Case You Want More:
Thanks to

Monika

 for the heads up (and Random House), I was able to score an advanced copy of this. She also found it

hard to put down

!
| Girl at War | Random House | 2015 | hardcover | source: publisher |