I wrapped up my Tournament reading around mid-month, so I had the remainder to focus on some other things, although still feel like I didn't get all the reading done I had hoped. Despite that, I still read 7 books, and listened to 3 audio books.  My average this year so far seems to be about 10 books per month, which I'm happy with.
In case you missed my mid-month progress, check it out here, where I discuss the books I read earlier this month, shown below.
BOOKS:
   The Paying Guests, by Sarah Waters (2014)
I'm not going to say too much about this because I did an entire review, which you can read here. It's a story of a young woman, named Frances, who is unmarried and living with her mother after WWI. Their home is outdated and falling apart, with little money for repairs, and so they are forced to take in boarders to make ends meet. The boarders are a young, vibrant couple, who definitely shake thing up in this otherwise quiet, boring, and restrained home. Overall this was a decent enough read, but nothing to rave on about. Sarah Waters is an excellent writer, and I look forward to experiencing her other works. [3/5 stars]
   Sprit Bound, by Richelle Mead (2010)
This is the 5th book in the Vampire Academy series. It continues on the story of Rose, a guardian, and Lissa, a vampire, now graduated from school and out in the "real world." It redeems the series after the developments in the 4th book that I took major issue with. I read this on my phone in short snippets, and found it to a be a little slow going, until, of course, the huge cliff hanger ending. I'm definitely ready to wrap up this series, and will be getting to the final book soon-ish. [3/5 stars]
   Hausfrau, by Jill Alexander Essbaum (2015)
A newly released, very popular book definitely worth the hype. It's the story of an unhappy and lonely American woman, who lives in Switzerland with her husband and three children. Wow, what a boring sentence to describe a decidedly non-boring book. To redeem myself, see my full spoiler-free review here. Overall, this book was just what the doctor ordered, and I really really really liked it. [4/5 stars]
   The Storied Life of A.J. Fikry, by Gabrielle Zevin (2014)
I'm debating if I want to do a full review on this book. I probably will, but in the meantime – it's the story about a cranky codger of a man (can you call someone a codger if they're only 40?), who has lost his wife tragically, and continues to run the local bookstore they opened together. One day, a valuable edition of a book disappears from his apartment, and a short while later a cute, bouncy toddler is abandoned in his bookshop.  Basically, this was a right book, right time situation for me, and I really enjoyed it. [4/5 stars]
   Almost Famous Women, by Megan Mayhew Bergman (2015)
This is a fictionalized collection of short stories, revolving around real women, who won't be found in most history books, but none the less, led interesting and unconventional lives. I read this as a buddy read with Backlist Books, and it certainly generated thought-provoking discussions on both the book, and then tangentially, life in general. Stay tuned for more to come, but overall a great book to read with a friend. [3.5/5 stars]
AUDIOBOOKS: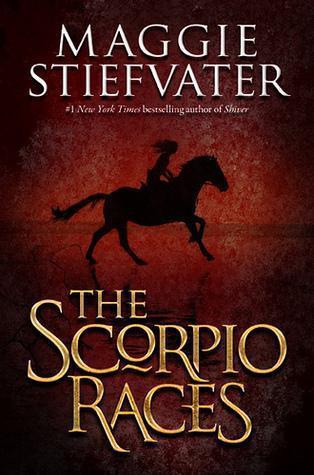 The Scorpio Races, by Maggie Stiefvater (2011)
You guys. I LOVED this so much! It was an EXCELLENT audio book experience, and I would highly recommend it in that format if you choose to read it. I think even people who don't get into the YA genre or don't particularly like fantasy elements in books, could easily enjoy this book. I did a full review recently, which you can find here for more gushing. [4.5/5 stars]
   Swamplandia!, by Karen Russell (2011)
I'm not even sure how to talk about this book – partly because I finished it up just this morning, so it's still pretty fresh. It's the story about three kids, ages thirteen to seventeen, who live on an island in the swamps of Florida, a boat ride away from the mainland. The Bigtree family empire involves a "theme park" of sorts headlining in gator wrestling. That's not even really what the book is about, per se, but I'm at a loss for how to better describe it – if you want a more spoilery description, click on the book cover and read the Goodreads synopsis. Anyways, this book was weird, yet oddly compelling, and filled with unconventional characters. I definitely need to let this percolate a little more in my brain, and maybe will have something more thoughtful to say later. A word about the audio narrators – the female for Ava Bigtree's POV was excellent, however the male for Kiwi Bigtree's POV was a perfectly fine narrator, but MUCH too old sounding for a seventeen year old, which detracted from his parts a bit. [3/5 stars].
All in all, a decent reading month in these parts, although I didn't get to the Brandon Sanderson book for #YearOfCosmere, so am now behind – such is life.
What was the best book you read this month? Can you help me come to terms with Swamplandia!?