I feel like I've been reading so many big books lately, and am in need of a few quick reads in the near future. But alas, I'm making my way through another big-ish book currently, which is also the last read I'm tackling for the Tournament. What is your definition of a big book? Are you easily intimidated by a book's girth? I figure, anything over 500 pages is "big." Ok, tangent over… I've read 2.5 books and listened to 2 audiobooks so far this month!
BOOKS: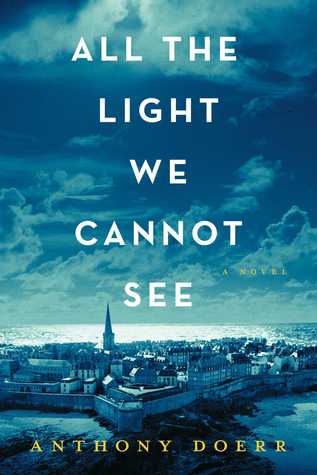 All the Light We Cannot See, by Anthony Doerr (2014)
This is a WWII historical fiction novel about a French blind girl and a Nazi youth, and how their lives connect. Overall, I really liked this book, and the writing was pristine. I will say it was a bit of a slow read for me, but I'm not really sure why… I did a full spoiler-free review of this book, which you can check out here . [4/5 stars]
   A Brave Man Seven Storeys Tall, by Will Chancellor (2014)
I got a little less than half way through this, and just had to stop. First off, I'm kind of over the whole pages and pages of substance-induced haze descriptions. Secondly, there were some great sentences as I was reading, but as it went on, the writing was too flowery and pretentious, and seemed to have no purpose other than to be flowery and pretentious. I mean, GET TO THE POINT ALREADY. Maybe I'll come back to it, as it has been so highly regarded, but not anytime soon. [Unrated]
   Redeployment, by Phil Klay (2014)
This was utterly heartbreaking, but definitely a read worth making time for. Some of the stories were better than others, but isn't that always the way with short story collections. I had a few issues with this, but overall was moved by this collection, and would recommend it across the board. [3/5 stars].
AUDIOBOOKS:
   Lucky Us, by Amy Bloom (2014)
Meh – this just wasn't for me. It's a story about two girls, who leave their midwestern home, in search of fame and fortune. There were some promising sections and themes, but overall this book was very on-the-surface, with poor development of both the plot and characters. This resulted in me not caring at all, and I was frankly, quite bored. I stuck with it because I had heard it was worth reading for the ending alone – yeah, not so much. It's not terrible, but I wouldn't rush out to read this if I were you. [2.5/5 stars]
   Matilda, by Roald Dahl (1988)
Roald Dahl is easily one of my most read and most loved authors as a child, and Matilda is high on the list of all time favorites. When I heard that Kate Winslet narrates the audiobook version, I IMMEDIATELY put it on hold at the library, and the wait was WELL worth it. Kate Winslet's use of voices and various accents was pure perfection, and I completely and utterly enjoyed myself. If you loved this book way back when, I guarantee you will love it still, and why not experience it in a new way. Guys… It was excellent. [5/5 stars]
What's the best book you've read so far this month? As always, I take suggestions – especially for some non-big quick reads!