Awww shucks, pa… I was nominated by the lovely Backlist Books! In addition to her thoughtful reviews, one of my favorite features on her blog is Book Thoughts on Thursday, where she discusses quite eloquently an interesting book related topic. Definitely worth checking out if you haven't already!
Now for the rules: I answer the 10 questions given to me, then nominate 10 others, and ask them 10 questions of my own! Yessss…. book gossip.
Backlist Books' Questions:
1. What 2015 book are you most excited about?
I am really dying to read Hausfrau, by Jill Alexander Essbaum, and am anxiously awaiting the moment I can add it to my collection, and display it in all its glory.
I also can't wait for Winter, the fourth and concluding book in the Lunar Chronicles. Each book is a fairy tale re-telling, but with cyborgs, and this installment is inspired by Snow White.
2. Which blog did you discover recently that you can't believe you didn't know about?
Shannon over at River City Reading. I LOVE her reviews, as she always has an interesting perspective, and a way of recommending books that makes me immediately want to run to the nearest bookstore/library! Plus, her blog is just so pretty.
3. What's the best book outside of your regular genres/topics/authors you've read in the past year?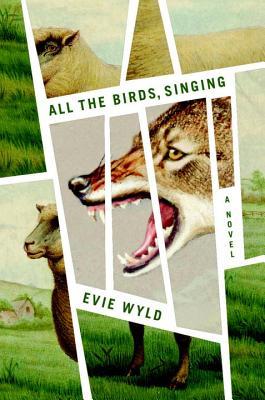 I am an ecclectic reader, and read across genres, however a book that immediately comes to mind is All the Birds, Singing by Evie Wyld (review here). I had seen this book around, and it was getting a fair amount of buzz, but the synopsis was not compelling in ANY way. However, when it was short-listed for the Tournament, I knew I would ultimately have to pick it up, and am SO glad I did! I read this a bit ago, and it has still stuck with me. I absolutely recommend giving it a chance.
4. Judging books by their covers: yay or nay?
Both. I mean, who doesn't love a pretty cover, and obviously a beautiful or interesting cover design draws the eye. But, in the same breath, I won't NOT read a book just because it has a bad cover.
5. What's your favorite book-to-movie adaptation?
I'd have to say Anne of Green Gables – after all, who doesn't want a bosom friend, or to date Gilbert? But… one can't deny that Clueless (a.k.a. Emma, by Jane Austen) is nothing short of perfection.
6. Which fictional world do you wish you could move into?
I mean, the obvious answer is the Harry Potter world. I wonder if a day will ever go by that I don't mention Harry Potter…. let's hope not.
7. Hardcover or paperback?
Both have their merits. I like hardcovers because I don't have to worry about cracking the spine, but man, they get heavy when reading in bed. Paperbacks are nice as they are light weight, and less expensive. I am really digging the super floppy ones lately. I always worry about cracking the spine on my paperbacks, because I like them to stay pretty when possible.
8. How many books do you read in a week, on average, and are you happy with your number?
My reading is highly variable based on several factors, including but not limited to: my work schedule (which is not even close to a "normal" Monday through Friday gig); how long the book is; how easy to read the book is; and, you know, which way the wind is blowing at 2:36AM five Wednesdays ago… For reals though, I usually read at least 1-2 books per week, sometimes more, and I'm generally pretty happy with my reading progress.
9. Which books are on the top of your TBR list?
SO MANY! The books coming up next for me will mostly likely be Almost Famous Women by Megan Mayhew Bergman, Bag of Bones by Stephen King, The Well of Ascension, by Brandon Sanderson, and Ruby by Cynthia Bond. A little variety, which is how I like to roll.
10. Because this is Backlist Books, which books published at least a year ago are highest on your TBR?
The majority of my 15 Books to Read in 2015 project are backlist books, and I'm a HUGE fan of backlist reading. I think the one I'm most highly anticipating is Never Let Me Go, by Kazuo Ishiguro. I've heard so many amazing things about his body of work in general, and specifically about this book.
Now for my short reign of power, I'd like to formally nominate these lovelies. If you don't want to do a full blog post, feel free to leave your answers below in the comments!
My questions, as follows:
Would you rather: lose the dust jacket of your favorite hard cover, or dog ear every other page in your favorite book?
What is one genre you haven't read much from, and would like to further explore?
Who is one blogger whose reading opinion you trust, and always will add to your TBR pile based on their reviews and recommendations?
What is your favorite place/position to read in?
What is the one book/series from your childhood that sparked your love of reading?
What is the book you are currently reading, and what's up next for you?
If you had to choose, would you rather read only e-books or only physical books for the rest of your life?
Do you utilize your local library, and why or why not?
What is one interest or hobby, outside of anything bookish related?
Ask yourself a question, and answer it!