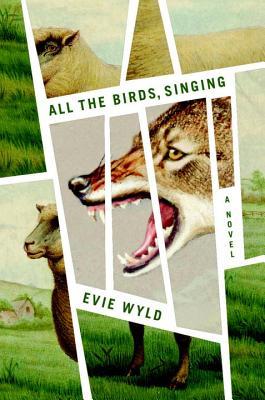 All the Birds, Singing, by Evie Wyld
I originally wasn't planning on doing a full review of this book, but it has really stuck with me, and I find myself continuing to think about it. This book is challenging to talk about in any depth without a few spoilers, so I've separated my discussion a bit, and there will be spoilers at the end of this post, with ample warning leading up to them.
The Facts:
Published in 2014
Winner of the Miles Franklin Literary Award in 2014, which is the most prestigious literary award in Australia, awarded to a book that depicts Australian life
Evie Wyld has a memoir, called Everything is Teeth, due to be released sometime this year.
Short-listed for 2015 Tournament of Books
Synopsis:
Jake, a female sheep farmer, is living an isolated life on a farm on a British island, when several of her sheep are mysteriously being killed one by one. Her only company is her dog – named Dog.
Non-Spoiler Thoughts:
The story is told in alternating chapters from her current life on a remote English island where she is a sheep farmer, to her past life in Australia. The present day chapters move chronologically forward, and the past day chapters move chronologically backwards, which I thought was an effective way to tell a story. Hints are dropped about her past, which is gradually and only partially revealed over time.
This book was certainly a page turner – not in a fast paced thriller kind of way, but in a I-just-really-want-to-know-what-happens kind of way.
Jake is an interesting, unique, and complex character.  She is definitely an unreliable narrator (which I LOVE)… and also, just… a bit odd. The reader gets ample insight into her somewhat fragile mental state, and prickly personality.
I will say Evie Wyld has quite a way with words, and a lot of her imagery and descriptions affected me in a very visceral way… heart pounding, mild sweating, clammy hands, shallow breathing…
A comment I made in my Goodreads review immediately upon finishing the book, as follows: "This book will stay with me awhile long after finishing, methinks."  And it sure has.
Now for some negatives:  I really didn't like the ending. It was ambiguous, and not in a good way. The story was building, and building, and then just fell flat. I think it would have been significantly better if the final chapter, which was only 2 paragraphs, would have been left completely out, and the book had ended with "…we were holding hands." That would still have been ambiguous, but with some sense of completion, and overall more effective. Unless this last chapter was serving a purpose, that I just don't get.
Spoiler Thoughts:
More negatives, but beware of spoilers below!
As the story unraveled, it continued to allude to some Big Thing, that set off the crazy and terrible course of Jake's life.  When all was said and done, it all came down to a stupid crush on a stupid boy, which I just found SO ANNOYING.
Lastly… who the heck killed the sheep? I'm leaning towards Jake herself, given her unhinged mental state. But what, then, is Lloyd seeing at the end?
Rating:     [4/5 stars]
If you want more…
The New York Times, Sunday book review
NPR interview with Evie Wyld here – this was super interesting!
| All the Birds, Singing | Pantheon | 2014 | hardcover | library |