As I discussed in my Tournament of Books post earlier this week, February and March will be devoted mostly to ToB reading.  This list may change, based on what becomes available at the library, but here's where we stand currently… I have quite the ambitious month of reading ahead of me…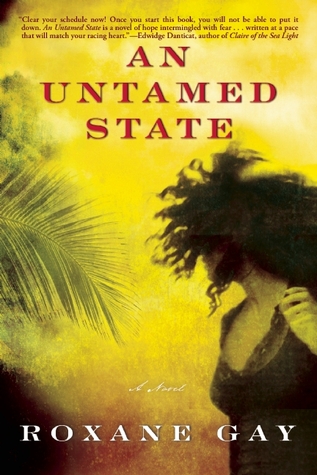 An Untamed State, by Roxane Gay
This is a story about a woman who is kidnapped for ransom while visiting her parents in Haiti. This book is working hard and pulling triple duty for me this month:
It's my in-real-life book club pick this month.
Tournament of Books reading.
#ReadSoulLit for Black History Month – hosted by frenchidee.  Check out her announcement video

here

.
  Redeployment, by Phil Klay
Goodreads says it best when it describes this as a collection of short stories that "takes readers to the frontlines of the wars in Iraq and Afghanistan, asking us to understand what happened there, and what happened to the soldiers who returned." This book also won the National Book Award for Fiction in 2014, so hopes are high.
  A Brave Man Seven Storeys Tall, by Will Chancellor
A debut novel, about a college athlete who sustains a terrible injury, altering his life trajectory, and then mysteriously disappears.
  The Bone Clocks, by David Mitchell
I don't even know how to describe this book, so click on the title above for the Goodreads synopsis. I've heard amazing things about this, and that it's a quick and compelling read, despite it's behemoth size at over 600 pages.
  The Final Empire, by Brandon Sanderson
There is a collaboration starting this month with some of my favorite BookTubers, called #yearofcosmere, which consists of reading one of Brandon Sanderson's works per month that take place in his fictional universe, called Cosmere. See the Goodreads group here, for the hosts and all the books.  This is super exciting, I JUST. CAN'T. EVEN… I've been wanting to get to Sanderson, and the Mistborn series specifically, for ages now! YES.
  Sputnik Sweetheart, by Haruki Murakami
If I get a chance, I'm hoping to read this, which would be my first Murakami, along with Booktuber Sabrina at Unmanaged Mischief.  She is embarking on a year long journey, called #YearOfMurakami, where she will read one Murakami book per month for the entire year, and this is February's pick.  I've heard this is a great place to start with Murakami's body of work, and it's pretty short at just over 200 pages, so here's to hoping…
I am also an avid listener of audiobooks, and always just check out whatever's available on OverDrive via the library.  I'm REALLY hoping my ticket comes up for this!
What are you planning to read this month?