I read several YA contemporary books throughout last year – some I really enjoyed, and some not so much.  I thought I'd do several mini reviews of what I've read – broken up into two parts. Reading YA as an adult can be tricky, and through trial and error I've somewhat learned what books to shy away from and what books to embrace whole-heartedly.
   The Perks of Being a Wallflower, by Stephen Chbosky (1999)
This is a story about Charlie, a freshman who is unpopular and socially awkward.  It it written in an epistolary style, which I didn't enjoy in this book. I know this is supposed to be some rite of passage book, but I think I just picked it up when I was too old – but can see how I may have really liked it had I read it as an adolescent.  People cite this as one of their favorite books of all time, and for me – not so much.  For a short read, at just over 200 pages, I really struggled through this book and it took me over a week to read. 1/5 stars, no offense to those who love it.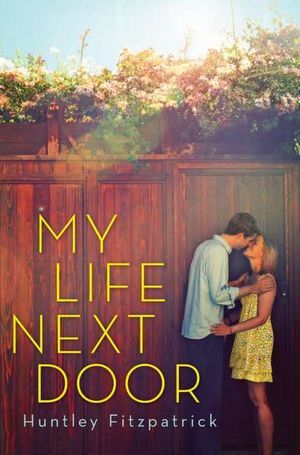 My Life Next Door, by Huntley Fitzpatrick (2012)
This is a story about Samantha, a girl with an uptight and "proper" mother, who lives next door to the large and rambunctious Garrett family, whom she has has little to no contact with despite their close proximity.  That is, until one evening, Jase Garrett catches her sitting on her balcony watching the family's activities.  I really liked this one, for several reasons.  Although at times the book read very young, it still felt relatable.  I LOVED getting to know the members of the Garrett family, and can understand Samantha's fascination with them.  Each family member had his or her own little quirk and shining moment in the story, and I liked how it wasn't all just about the romance.  Not to say I didn't enjoy the romance – I did, and liked how it wasn't insta-love.  Solid YA contemporary romance at 3.5/5 stars.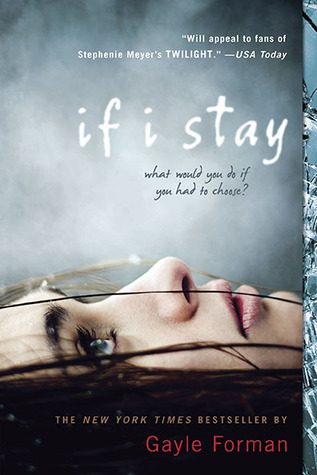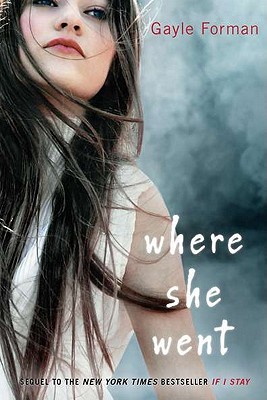 If I Stay  (2009) & Where She Went (2011) duology, by Gayle Forman
I think partly these books came at the perfect time in my reading life.  If you read my review of The Goldfinch, you will know it was a bit of a struggle for me, and these were the first books I read during my "break," and were exactly what I needed.  This is a story about Mia, a musician with a great family and the near-perfect boyfriend, until she is in a horrible car accident, killing her parents and trapping her between life and death.  This was some gooood reading, and I read both books in about a day and half.  I did like the first book more than the second, but both solid reads at 4/5 stars, and 3/5 stars respectively.  I will certainly be checking out Gayle Forman's other works in the future.
 Looking for Alaska, by John Green (2005)
This is a story about Miles, leaving home and a school he knows, to attend boarding school, where he meets a group of pals who introduce him to new things and an alternate way of living and thinking about life.  He becomes desperately infatuated with Alaska, a wild and reckless girl… with a boyfriend.
I liked the first half more than the second half. I started to get pretty bored actually, and that boredom wasn't really worth it in the end.  Speaking of the ending – I do enjoy an ambiguous ending, but this might have taken that a breath too far… mixed feelings on that front.
I found most of the characters somewhat unbelievable as real teenagers… however other aspects – i.e. insta-love, impulsiveness, reckless behavior – I found completely believable, albeit annoying.
I thought some sections were extremely well written with amazing prose, but then as the book went on, things started to fall a little flat for me.  All in all, it was fine, but not amazing at 2.5/5 stars.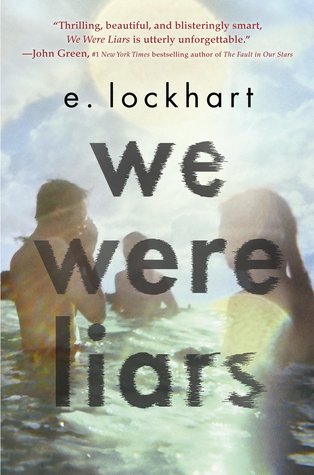 We Were Liars, by E. Lockhart (2014)
This is a story that I'm not going to give really any synopsis of, because it's best appreciated just picking it up and reading it without knowing anything about it.  I will say, I read this following a lot of hype and intrigue on the internet land, and was not let down.  I thought this was an atmospheric book, with enough plot and enough mystery to propel the reader along, leading to the big reveal at the end.  Good stuff all around, at 4/5 stars.
Stay tuned for Part 2 of my YA Contemporary Round Up in early February.